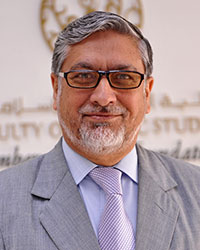 Professor of Islamic Finance
Qatar Foundation, Qatar
Tariqullah Khan is currently Professor with the Faculty of Islamic Studies Qatar Foundation Doha Qatar in its MSc Islamic Finance Program. Before joining the Faculty in August 2009 he worked as the Division Chief Islamic Banking and Finance at the Islamic Research and Training Institute (IRTI), the Islamic Development Bank (IDB) Jeddah. At IRTI he also officiated as Division Chief, Islamic Economics and Development Cooperation and worked as Editor of the Islamic Economic Studies. He was also the technical Anchor of the Ten-Year Framework and Strategies for the Development of Islamic Financial Services Industry - a joint IDB and Islamic Financial Services Board (IFSB) initiative and Co-Leader of the IDB Islamic Financial Services Development program and a member of the IFSB Working Group on Risk Management. He worked as a member of the International Advisory Committee of the QFIS for establishing the MSc Islamic Finance Program and recently worked as a member of the Visiting Certification Commission, Ministry of Higher Education Government of UAE. He has contributed several research papers in the areas of risk management, regulation and supervision and financial stability and Islamic financial sector development. He has developed a number of international flagship conferences in these areas and presented papers and lectures and edited conference proceedings. He holds BA and MA Economics degrees from the Karachi University, Pakistan and a PhD degree from the Loughborough University, United Kingdom.