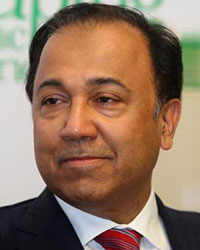 Chief Executive Officer
Fajr Capital, Saudi Arabia
Mr. Iqbal Khan is Chief Executive Officer of Fajr Capital. He is also currently the Chairman of the Executive Committee and a Board member of Jadwa Investment in Saudi Arabia, and a Board member of Bank Islam Brunei Darussalam in Brunei. Previously, he was Founding CEO of HSBC Amanah, where he built the business and team over eight years as one of the fastest growing and most successful emerging businesses in the HSBC Group. Mr. Khan has received a number of industry commendations, including a special award from Euromoney in 2006 for his "Outstanding Contribution to Islamic Finance.