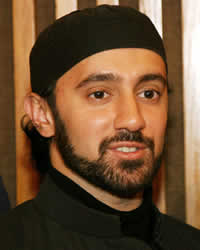 Executive Director, Islamic Center at New York University
New York University, USA
Imam Khalid Latif was appointed the first Muslim chaplain at NYU in 2005 where he began to initiate his vision for a pluralistic future on and off campus for American Muslims. He was also appointed the first Muslim chaplain at Princeton University in 2006. Spending a year commuting between these two excellent institutions, he finally decided to commit full-time to New York University's Islamic Center where his position was officially institutionalized in the spring of 2007. Under his leadership, the Islamic Center at NYU became the first ever established Muslim student center at an institution of higher education in the United States. Imam Latif's exceptional dedication and ability to cross interfaith and cultural lines on a daily basis brought him recognition throughout the city, so much so that in 2007 Mayor Michael Bloomberg nominated Imam Latif to become the youngest chaplain in history of the New York City Police Department at the age of 24.