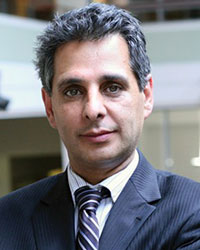 Associate Professor & Academic Director
Rotman School of Management, University of Toronto - Canada
Walid Hejazi is an Associate Professor of Business Economics, and Academic Director, at the Rotman School of Management where he regularly teaches Canada's current and future business leaders in the MBA, EMBA, and custom Executive programs. Walid has also developed a successful course in Islamic Finance, which is now a regular for credit course in the MBA program at the University of Toronto. This represents the first such course in Canada. He has published extensively in many business journals and publications. In keeping with the spirit of Rotman, Walid balances his research activities by helping many of Canada's leading organizations leverage research to develop and deploy new strategies and initiatives. He is also the Rotman lead on the annual Rotman-TELUS IT security study, which surveys hundreds of organizations and analyzes best practices. Walid has also consulted for several branches of the Canadian and foreign governments, on themes related to international competitiveness. He has appeared several times before parliamentary committees on topics related to Canadian competitiveness, foreign investment, competition in the Canadian economy, and international tax structures. He is currently working to enhance the Rotman presence in the Middle East, and has been working closely with Mubadala, an arm of the Abu Dhabi government on Training.