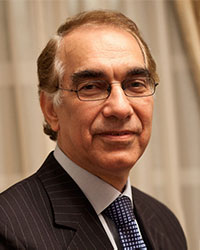 Professor of Public Health Director,
World Health Organization Collaborating Centre Department of Primary Care
Public Health School of Public Health Faculty of Medicine
Imperial College London, UK
He is an Honorary Professor at Ghent University, Belgium and King Saud University, Riyadh. Salman's contributions to public health and primary care in research and service delivery are well known. He is recognised for his work in supporting countries to strengthen their health systems and service development including Bahrain, Brazil, Iran, the Kingdom of Saudi Arabia, the State of Kuwait, Libya, Malaysia, Maldives, Malta, Oman, Poland, Tunisia, Uzbekistan, Iraq, Palestine, Qatar and Yemen. He and his team run many international educational and training courses including Advanced Leadership Training Programme, Health System Development, and NCD. His current research activities are in health system performance, use of technology, the right to health, primary care, and medical education curriculum development and health checks.