Already ranked the easiest place to do business in the MENA region, Saudi Arabia is undertaking aggressive reforms and investments to become one of the world's Top 10 most competitive economies by 2010: the 10x10 mission
As the world's fastest-reforming economy, Saudi Arabia has seen growing momentum and recognition for its economic transformation. In just four years, Saudi Arabia has risen from
67th to 13th
position in the World Bank's Ease of Doing Business Index and is currently number one in the Middle East. The Kingdom ranks
3rd
and 7th in the world, respectively, for ease of registering property and paying taxes.
Of course, it is no surprise that Saudi Arabia offers the world's most competitive energy prices to investment projects. As such, Saudi Arabia continues to be a natural choice for investors in all energy-intensive industries.
But competitive advantage in today's Saudi Arabia run much deeper than just energy. It's about creating a world-class business environment that combines an ease of conducting business with low costs. It's about unfettered access to regional markets and financial services. Above all, it's about our country's vision, and our shared commitment, to seeing your business thrive.
When you're ready to invest in Saudi Arabia, SAGIA is the government's investor-friendly face. As well as a progressive regulatory environment, generous financial incentives and one of the world's most stable currencies, the Kingdom offers an excellent standard of living – thanks to our huge experience in hosting expatriate workers and professionals from around the world.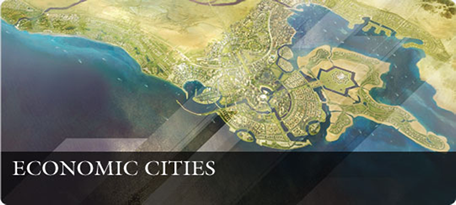 Forget everything you know about 'industrial parks' and 'free zones'. Saudi Arabia's four new Economic Cities– fully planned and under construction – are exactly that: new cities, where up to five million residents will live, work and play. Each will be an exciting metropolis, designed to maximise investment potential and deliver huge advantage to businesses located there.
At a cost of more than
$60 billion,
Saudi Arabia's economy is being propelled onto a whole new level with the construction of four integrated Economic Cities. This visionary development project will promote economic diversification, create over a Million new job opportunities, homes for 4-5 million residents – and, most significantly, contribute
$150 billion,
to Saudi's GDP.
Unparalleled standards of living
Built on specially selected greenfield sites and strategically located around the nation, each city is being planned to the highest possible specification as the ultimate in 21st century urban living and working. Residents and workers will enjoy a virtually unique combination of high-quality housing, modern amenities, excellent sports and recreational facilities and world-class specialist healthcare. International schools will offer global curricula for workers' children from all over the world while luxurious malls will offer shops and restaurants featuring the finest goods and food from around the globe.
A benchmark for world-class, sustainable design
Each city will feature modern building design, world-class services and infrastructure and ubiquitous connectivity. These built-in advantages, combined with attractive investment incentives and a supportive regulatory environment will create significant competitive advantages for business. SAGIA is also working with leading environmental institutions to ensure that the Economic Cities are developed with minimum negative environmental impact and maximum energy efficiency and sustainability.
King Abdullah Economic City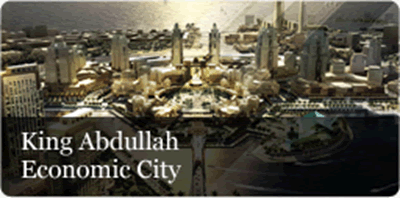 Prince Abdul Aziz bin Mousaed City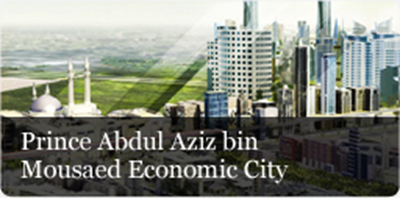 Knowledge Economic City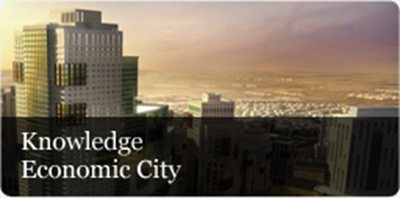 Jazan Economic City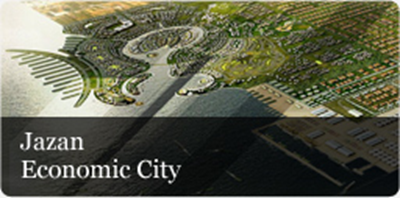 In just four years, Saudi Arabia has risen from
67th to 13th
position in the World Bank's Ease of Doing Business Index and is currently number one in the Middle East.The Kingdom ranks 3rd and 7th in the world, respectively, for ease of registering property and paying taxes.Already ranked the easiest place to do business in the MENA region, Saudi Arabia is undertaking aggressive reforms and investments to become one of the world's Top 10 most competitive economies by 2010: the 10x10 mission all 128 government services available at SAGIA Business center-one stop shop
US$60 billion
estimated cost of the Economic cities King Abdullah Economic City of US$ 27 billion with 1 million job opportunities Prince Abdulaziz Bin Moudaed Economic City of US$ 8 billion with 55k job opportunities Knowledge Economic City of US$ 7 billion dollar with 20,000 job opportunities Jazan Economic City of US$ 27 billion with 100k job opportunities US$ 79 billion in private sector energy projects under development Overall, a US$100 billion investment is anticipated over 10 years. These include:
Ports: 5
Air: 3
Rail: 3
Road: 3
Logistics centers: 5
27 million
consumers the largest ICT market by far in the Middle East Health sector spending is expected to reach US$20 billion by 2016 world's 8th highest spender on education US$ 2 billion in pharmaceutical sales making Saudi the largest market in GCC US$ 37 billion budgeted for Education & Training in 2010 3rd in the world for macro economic stability Recent entrants are:
CISCO
SAP
Conoco Phillips
Etisalat
SABIC
DP World
TOTAL
Dow Chemicals
Saudi Aramco
Japan Bank for International Cooperation
Sumitomo Chemical
Alcan
Being one of the world's Top 10 most competitive economies makes Saudi Arabia the perfect investment opportunity. But that's not the only reason why:
Saudi Arabia is ranked 4th in the world for "fiscal freedom" and it's the 7th most rewarding tax system in the world
7th freest labor market in the world according to the World Economic Forum
One of the world's 25 largest economies (24th) and the largest economy in the MENA region
One of the world's fastest growing countries: per capital income is forecasted to rise from $20,700 in 2007 to $33,500 by 2020
It's the world's fastest reforming business climate
It's the largest free market in the MENA
Represents
25%
25%
of worlds oil reserves
13th out of 181 countries for the overall ease of doing business globally. 7th in terms of ease of paying taxes
1st for ease of registering property and it's the largest recipient of Foreign Direct Investment in the Arab world